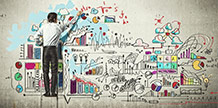 Business Planning
Are you currently a sole proprietor thinking of incorporating and wondering what you need to do?Are you a corporation that is thinking of expanding your operations and wondering what the best financial strategy would be?
We can help you create a business plan that details your business and helps you project where your business is going and what you may need to do to get there
A business plan is a document with a set of business goals, the reasons they are believed attainable, and a step by step process to help you reach those goals. It is tailored to the needs of the individual requesting the business plan and their needs.
When the existing business is to assume a major change or when planning a new venture, a 3 to 5 year business plan is generally required, since investors will look for their annual return in that timeframe. Banks also request business plans as they are afraid that a company may not be able to repay their loans and therefore wants to see whether the company has a convincing case for its ability to repay the loan.
A business plan is a key tool that can help you project the future of your company and we can help you get started on completing one today. Contact us to see how.